Amish Built Dog Houses for Sale
If you own dogs that cannot practically stay in your home, it's wise to invest in an outdoor dog house designed with long-term use in mind. At Amish Structures, our outdoor dog houses for sale are built using the highest quality material and are assembled by a team of experienced craftsmen. Not only that, but they boast an impressive aesthetic that is sure to pair well with virtually any outdoor setting. Homeowners that purchase our outdoor dog houses for sale comfortably enjoy the peace of mind that comes with knowing their dogs are safe and can move with appropriate limitations.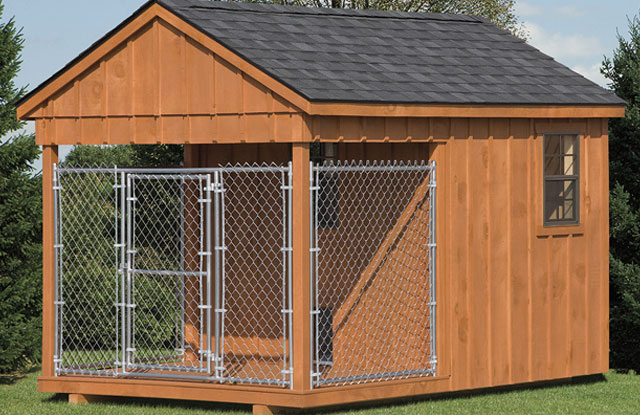 Check Out Our Custom Dog Houses
Amish built dog kennels from Amish Structures are a step up from the ordinary. When you purchase a dog kennel from us, you'll get a structure that's spacious and accommodating. Additionally, your kennel can be configured to suit your preferences. A typical outdoor dog house has a comfortable, covered indoor space coupled with a durable chain-link fence and exterior gate. Roofs can be traditionally shaped with a classic ridge. The roof may also be ventilated with a naturally appearing ridge vent to provide extra airflow inside.
Your dogs can also be treated to some added light with attractive double-hung windows similar to what's included with many of our other outdoor structures. A combination indoor-outdoor design allows your dog to roam freely and instantly seek shelter from the sun on hot days or from the elements. Additional customization options we offer with our outdoor dog houses for sale include white and brown aluminum windows, glassboards to protect floors, wood shingles for added character, and roofing options that include asphalt shingles, painted metal roofing, and standard pine.
Also, with a variety of colors to choose from, there are many options with our outdoor dog kennels. From classic barn red to black and dark brown, there are many appealing hues available. We also offer rich greens and blues and varying shades of white and gray.
Amish Built Dog Kennels for Sale in Maryland
If you're in the market for a quality outdoor dog kennel, look no further than our impressive selection at Amish Structures in Queenstown, Maryland. We proudly sell Amish built dog kennels that both look great and stand the test of time. We take great pride in our work and always aim to exceed expectation with every kennel built. To learn more about our kennels and the options for customization, please contact us today!